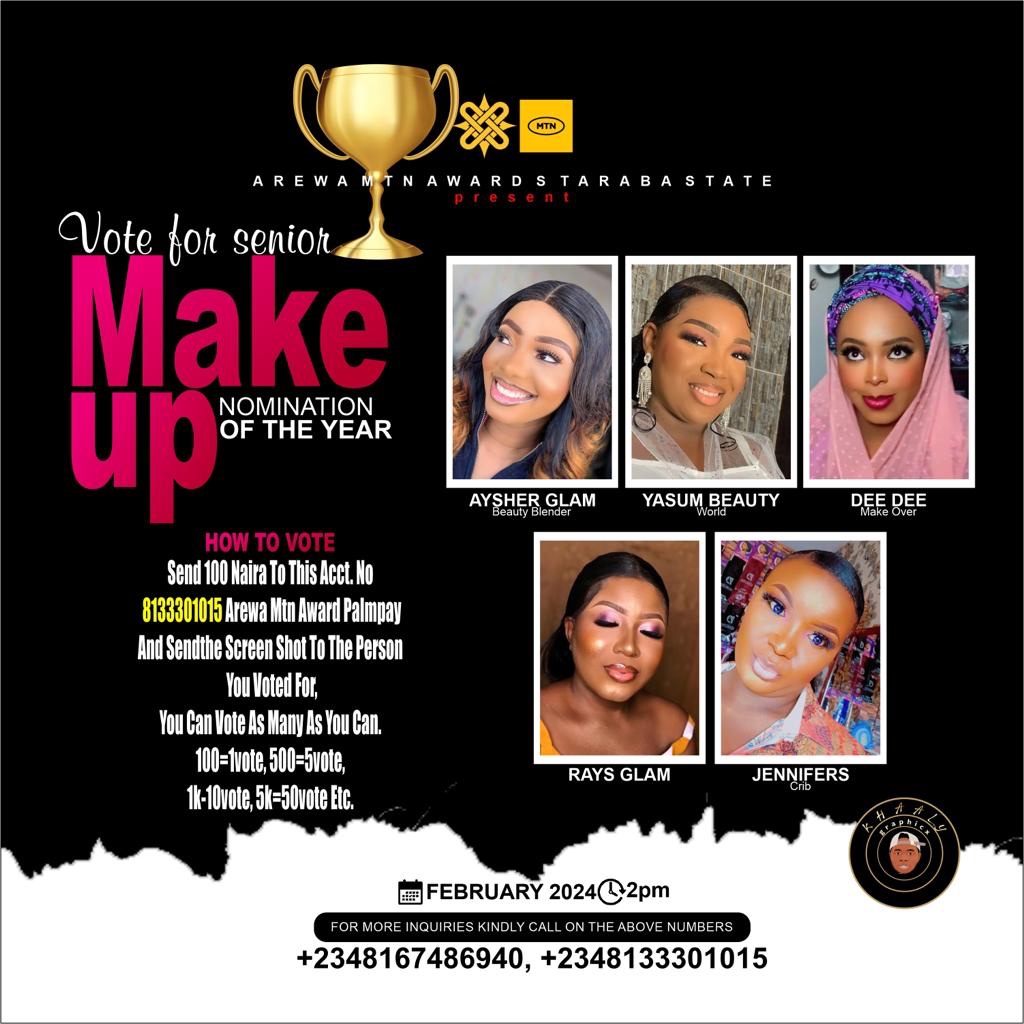 In a dazzling celebration of talent and creativity, Jennifer's Crib, located at Shop No. 19B Kwararafa Plaza, Takum Junction, Wukari, Taraba State, emerged triumphant at the prestigious Arewa MTN Awards. The accolade bestowed upon them as the "Senior Makeup Artist of the Year" is a testament to their exceptional artistry and dedication to the world of beauty.
Organized by the illustrious Arewa Legend, the foremost show promoter in Arewa with over a decade of successful award shows to their name, the Arewa MTN Awards stand as a beacon of recognition for outstanding artists in various categories.
Jennifer's Crib, hailing proudly from Imo State, has not only claimed the Senior Makeup Artist of the Year award but has also etched their name in the annals of Arewa's beauty scene. The accolade is a reflection of their commitment to excellence, innovation, and a deep understanding of the artistry that goes into making every face a canvas.
In a competitive field where creativity knows no bounds, Jennifer's Crib has managed to capture the essence of beauty, setting themselves apart as trendsetters and influencers in the makeup industry. Their shop at Kwararafa Plaza serves as a hub of transformation, where beauty is not just applied but crafted with precision and flair.
The second position in this coveted category went to Yasum World of Beauty, Jalingo, led by the talented Doris Bako. This acknowledgment speaks volumes about the high standards and fierce competition within the Arewa MTN Awards.
As we celebrate Jennifer's Crib's victory, it is not just an award for a makeup artist; it is a recognition of an artist's ability to enhance natural beauty, boost confidence, and leave an indelible mark on the canvas of faces. The Senior Makeup Artist of the Year is a title that resonates with skill, passion, and an unwavering commitment to the craft.
Imbued with the spirit of excellence and fueled by the desire to redefine beauty standards, Jennifer's Crib stands tall as the Senior Makeup Artist of the Year in Arewa MTN Award's Taraba State chapter. Their triumph adds a new chapter to the story of beauty in Arewa, leaving an imprint that will inspire aspiring makeup artists for years to come.
Be the first to comment